Helllooo!! We are getting so close to Christmas, hooray! I don't know about you guys, but my Christmas calendar is full to the max. There are so many things I have to do!! I also have like five Christmas parties to go to..Holy cow. It's only polite that you bring a dish to each party you go to, so after pondering forever about what I would bring, I came up with party mix! Ta-da! Not the most creative idea in the world, but who cares?! Everyone loves party mix! Plus, everyone always brings some kind of dessert. Don't get me wrong, I love pretty much any kind of dessert, but I don't like to induldge in so many sweets that I feel like I'm going to puke the rest of the night. I thought I'd try out all of these party mixes (different one for each party) and figure out what the best one is. I want you to try them too, and tell me which one you like! Clink on the links under the pictures to see where they came from! Get cookin' ladies!
Festive Party Mix
Servings: about 10 cups of mix
Ingredients
1 cup Cheerios
2 cups small cheese crackers
1/2 pound mixed nuts
1/2 teaspoon Worcestershire sauce
1/4 teaspoon celery salt
1 cup Kix
1 cup rice Chex
2 cups thin pretzels
1/4 cup unsalted butter, melted
12 teaspoon garlic salt
Instructions
1. Preheat oven to 250 degrees.
2. Mix all dry ingredients together in a large bowl. ***I use a huge stainless steel bowl that I bought at a restaurant supply store-you can bake the mix right in it!
3. Mix melted butter and seasonings together in a separate small bowl.
4. Pour the melted butter mixture over the dry ingredients and mix well.
5. Bake the mix for 30 minutes, stirring every 10 minutes to evenly combine.
That's it! It's simple, delicious, and completely addicting!
Red Hot Popcorn Party Mix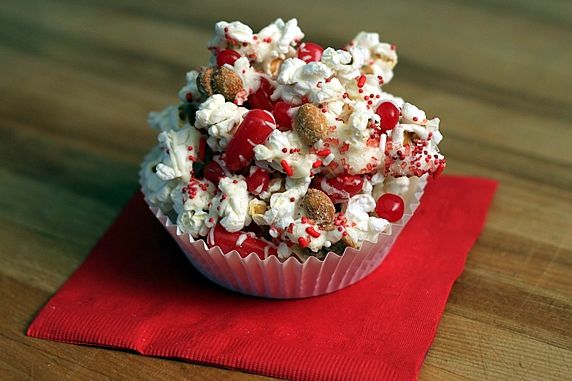 The Yummy Life
-Hot Tamales chewy cinnamon candies
-Red & white decorating sprinkles
2.
Sprinkle the popcorn with approx. half of the Hot Tamales, Red Hots, and peanuts.
3.
Add oil to white chips. (Adding a small amount of canola or vegetable oil, gives the melted chocolate a smoother, glazy texture and appearance.)
4.
Combine white chips with oil in small bowl and melt in microwave in 20 second intervals, stirring each time, and continuing to cook just until chips completely melt in when stirred (approx. 60 seconds total).
5.
Use a spoon to drizzle approx. half of melted chips on top of popcorn mix. This adds flavor, but also works as "glue" to bind the popcorn and candy. Drizzling in layers helps it all stick together.
6.
Sprinkle on remaining candy & peanuts, along with the salt.
7.
Drizzle on remaining melted chips and immediately (before it hardens) sprinkle with decorating sugar and sprinkles.
8.
Let the mix harden completely and break it into pieces. You can speed up the hardening in the refrigerator, if you're in a hurry.
It's kind of like a popcorn candy bark. You can drizzle on more of the melted chips if you prefer it to be even more candy-like. Put it in a cupcake liner for a cute effect!
Mom's Sweet Christmas Chex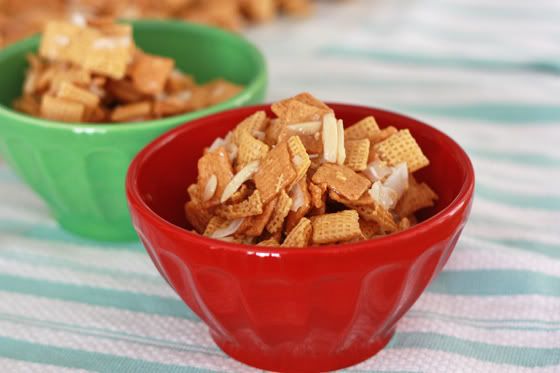 Ingredients:
1 (14oz) box corn Chex cereal
1 (12oz) box graham cracker cereal (like Golden Grahams)
2c coarsely grated coconut (I prefer unsweetened)
1 generous cup slivered almonds
2c sugar
2c corn syrup
1c butter
1 tsp almond extract
Directions:
In one or two of your largest bowls, combine cereals, coconut, and almonds. Make sure you'll have plenty of room to toss the cereal mixture with the warm sugar syrup mixture.
In a large saucepan, combine sugar, corn syrup, and butter. Cook and stir over medium heat until the mixture comes to a boil. Boil for 2 minutes, then remove from the heat. Stir in almond extract and pour over cereal mixture. Toss to coat well.
Puppy Chow
Ingredients
9 cups Combination of Corn, Rice, and Wheat Cereal squares (Chex)

1 cup chocolate chips

1/2 cup creamy peanut butter

1/4 cup butter

2 teaspoon vanilla

1 1/2 cups powdered sugar

2 1-gallon ziplock bags
Place cereal in a large bowl and set aside. In a medium microwavable bowl, add chocolate chips, peanut butter and butter. Microwave on High for 1 minute and stir. Microwave 30 seconds longer and stir mixture until smooth. Stir in vanilla. Pour sauce over cereal and stir until evenly coated. Spoon half of the mixture in each 1-gallon resealable ziplock bag. Add 3/4 cup powdered sugar to each bag, and seal. Shake the bag until everything is coated. Spread on waxed/parchment paper to cool. Store in airtight container in refrigerator.